Sue's List
Roses are red, violets are blue, and today's list is packed with sustainable ideas that are sure to make your heart flutter too! This Valentine's Day, let's spice things up with an egg-citing list of smart solutions. This list is the perfect match for a love that's both passionate and planet-friendly. So let's skip the chocolates and dive into this sustainable and sweet list.
S for Statistics
Smartest Cities in the US and Europe
The analysis began with a seed list of 100 cities across the U.S. and Europe. These comprised mainly country/state capitals or the most-populated cities. The researchers then used the 11 criteria discussed above to compare each city. Each of the cities received a score out of 100 for each of the three primary categories and an overall final score out of 100 based on the scores for each component. Check out the lists: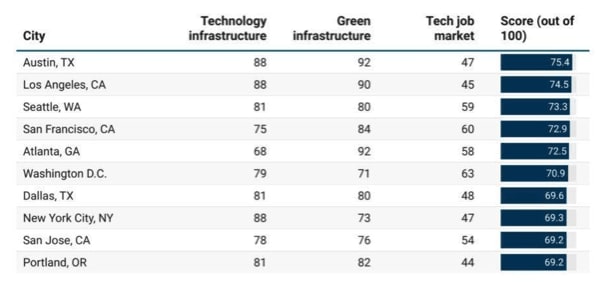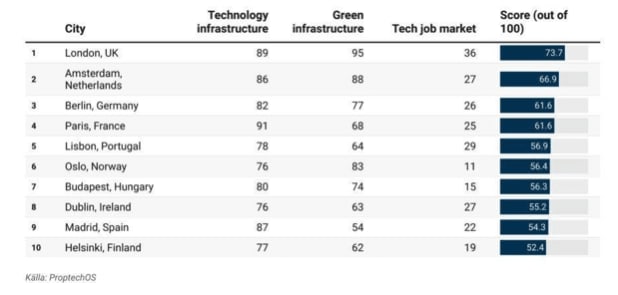 U for Unique
Kipster introduced first carbon-neutral egg in the Netherlands
Wow, it's amazing to see how Kipster, in business since 2017, is revolutionizing the egg industry with its innovative and environmentally conscious approach. By using upcycled food and relying on renewable energy, they are not only reducing their carbon footprint, but also providing a sustainable solution for the food industry. The expansion to the US market through partnerships with Kroger and MPS Egg Farms is a positive step towards promoting sustainable practices and making them more accessible to consumers. The co-branding with Kroger's Simple Truth + Kipster label is also a great way to increase visibility and make it easier for people to choose environmentally friendly products. Kudos to Kipster for their efforts in making the world a greener and more sustainable place! Cannot wait to find those eggs in our neck of the woods.
https://www.kipster.farm/
E for Explore
Showerhead with Aromatherapy? Sign me up!
The Hai showerhead with aromatherapy infusion sounds like a game-changer for anyone looking to enhance their shower experience and be more environmentally conscious. The infusion tablets not only provide a relaxing and rejuvenating aromatherapy experience but also contain vitamins and essential oils to promote overall health and wellness. The fact that showerhead operates at a low flow rate of 1.8 gallons per minute and has sensors that
indicate the water temperature, making it a smart and efficient choice for those looking to conserve water.
The Bluetooth connectivity and phone app also add a modern touch, allowing users to track their water usage and receive alerts when their shower is ready at the desired temperature. The mist mode and the option to detach the shower head as a handheld attachment are added bonuses, providing customization and versatility. The six color options and brushed nickel finish are a nice touch and give users the ability to choose a showerhead that matches their bathroom decor.
Overall, the Hai showerhead with aromatherapy infusion seems like a great investment for anyone looking to upgrade their shower experience and make a positive impact on the environment. The ease of installation and the various features make it a top choice for anyone looking to improve their daily routine. This is definitely an upgrade worth thinking about!
https://gethai.com/
's for small peeps
Best Friends Roadhouse for our furry friends and us
It sounds like the Best Friends Roadhouse is a true paradise for animal lovers! The Valentine's Day package, which allows up to four pets to stay for free, is a fantastic offer for those who consider their pets to be their sweethearts. And if you don't have a pet, the option to invite a dog, cat, or rabbit for a sleepover is a unique and fun opportunity to cuddle with a furry friend. While I think the Valentine's Day idea is adorable I know that kids would LOVE to visit with their pets.
The roadhouse has thought of everything to make both pets and their owners happy, with luxurious amenities such as Frette linens, vegan bath products, and a pull-out trundle pet bed. The chance to visit the sanctuary and interact with the animals is also a big draw for animal lovers of any age, with opportunities to socialize, walk, and play with the animals or take a full sanctuary tour.
With so much to see and do, it's no wonder that visitors might need to book an extra night or two at the roadhouse. From Dogtown and Cat World to Horse Haven, Marshall's Piggy Paradise, and Wild Friends, there's something for everyone at the Best Friends Roadhouse. It's the perfect destination for animal lovers looking for a peaceful getaway filled with cuddles and furry friends.
If the location in Kanab, Utah, is not on the travel list right now, one can also visit their smaller location in Soho, NYC.
https://bestfriends.org/locations#newyorkcity Thanks for reading the entire list.
See you next Tuesday- Sue Lapsien