This week, we're diving into the world of NBA game ticket prices, exploring the costs of Alpine chalets in Europe, and discovering effective ways to combat those winter blues. Get ready for a lineup of intriguing insights and practical tips!


S
For Statistics
What an amazing difference in price...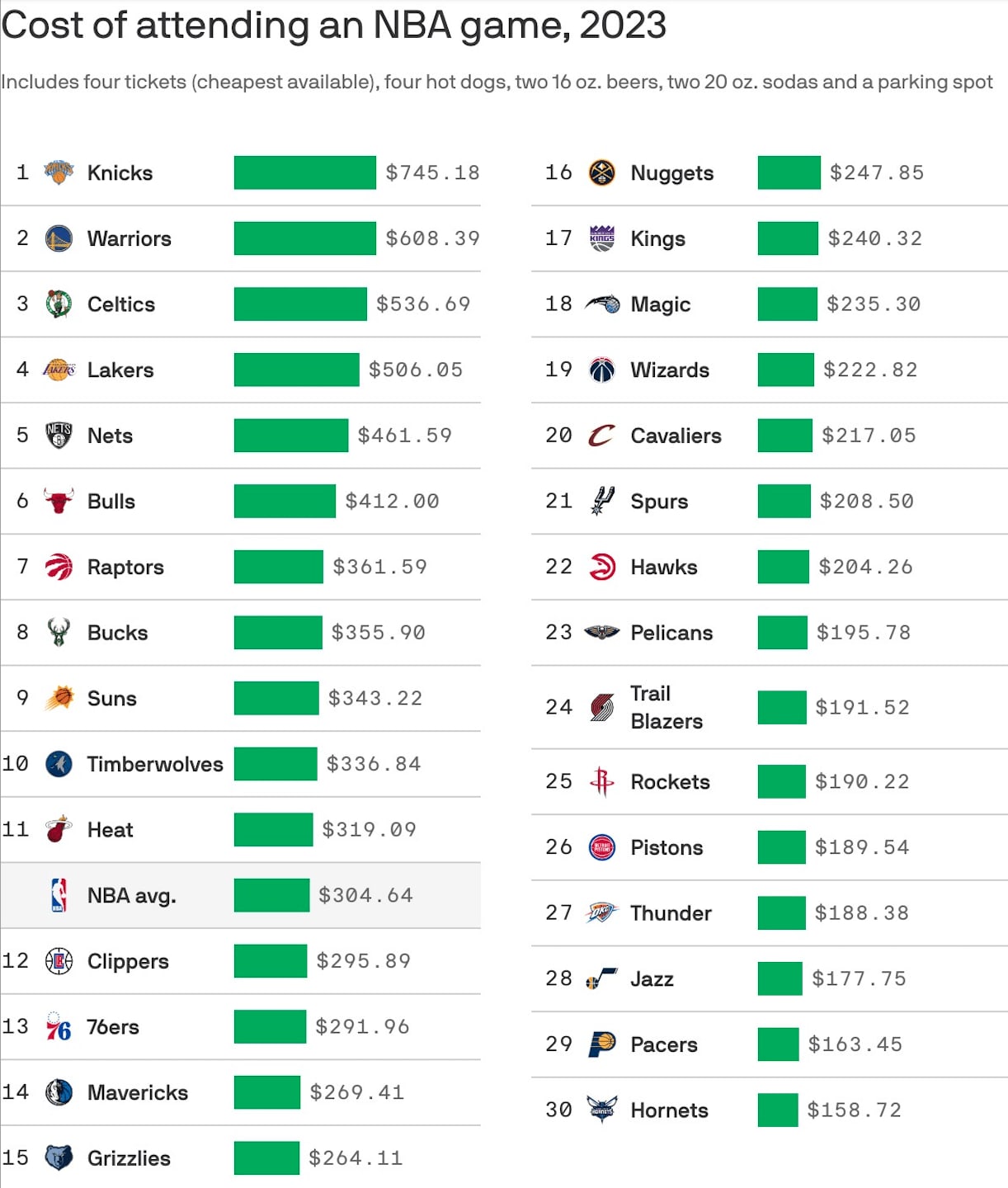 U
For Unsual


Alpine Chalet Market Hits Peak Growth: Prices Soar and New Buyers Glide In


Hold onto your ski poles, folks, because the Alpine ski property market has been on a wild ride! Picture this: the average price of Alpine ski chalets decided to go on an adventure of its own, and it's been one heck of a journey.


In a plot twist that no one saw coming, the average price of these cozy chalets decided to defy gravity and soared by a thrilling 4.4% year over year until June 2023. That's the strongest growth since 2014. But, of course, there's a twist to this tale: limited inventory.


But there's more excitement on the horizon. You see, infrastructure improvements have also joined the party, contributing to the price growth. And guess who's leading the charge? None other than the Swiss resorts!


First up, we've got Klosters in Switzerland, the undisputed superstar, with a jaw-dropping 15.7% increase in prices. It's like the chalet market's very own superstar. Then there's Davos (12.6%), Andermatt (9.3%), Nendaz (8.3%), and St. Moritz (7.2%).


But there's more drama to this Alpine opera! The French Alpine resorts refused to be left out of the limelight. Chamonix (6.8%), Courchevel 1850, Val D'Isère (5.3%), Morzine (4.8%), and Les Gets (3.5%) showed that they could still hit the high notes in this chalet crescendo.


Now, let's talk altitude, shall we? The high-altitude resorts, like St. Moritz, Val d'Isère, and Courchevel 1850, have been the real showstoppers. Buyers want to make sure the snow keeps flying during their ski sessions, and these resorts are serving up snow reliability like it's hot chocolate at après-ski.


But it's not just about the slopes anymore. Resorts offering year-round activities have become the cool kids on the block. It's all about keeping those chalets busy even when the snow's taking a vacation.
But it's not all bluebird skies and fresh powder. There are challenges ahead for our beloved ski resorts. Climate change is making winter a bit of a rollercoaster, and there's a need for some fancy upgrades to the aging infrastructure. Plus, those strict planning rules are like the ski patrol reminding us to slow down.


Still the market is evolving, attracting buyers from far and wide. We're talking buyers from the US, Asia, the Middle East, and even folks from southern Europe are pivoting northwards, trading in the beach for the mountains after some intense heat waves. So, grab your gear, because the Alpine chalet market is one wild adventure that's far from over!


E
For Explore

Chasing Away the Winter Blues: A Brighter Perspective on Seasonal Changes


As the days grow shorter and the mercury drops, many of us find ourselves in the midst of the winter blues. You know the feeling—cuddling up under a warm blanket, sipping hot cocoa, and contemplating whether it's still acceptable to wear your pajamas all day. While some seasonal sadness is entirely normal, for millions of adults in the United States, winter brings something a little more serious: seasonal affective disorder (SAD) or seasonal depression.


Why does winter seem to put a damper on our spirits? It's not just the biting cold or the lack of beach days; it's also about how our bodies react to the changing seasons. As the daylight dwindles, our exposure to natural light decreases, which can wreak havoc on our brain chemistry. Two key players in this winter mood swing are serotonin (the mood regulator) and melatonin (the sleep orchestrator). Less light exposure can disrupt the balance of these crucial chemicals and throw our circadian rhythm out of whack.


According to a recent poll by the American Psychiatric Association (APA), two-thirds of adults report experiencing at least one of these behavioral shifts when winter rolls in: increased sleep, persistent fatigue, or feelings of depression. It's no wonder that cozying up with a Netflix binge at your own home seems so appealing.


So, what's the remedy for these winter blues? Dr. Petros Levounis, the president of the APA, has some advice: keep an eye on your sleep. Mood disorders and sleep loss often go hand in hand, and even a single sleepless night can send your emotions on a rollercoaster ride.


To maintain a sense of equilibrium, try to stick to a consistent sleep schedule—even on weekends. It's all part of practicing good sleep hygiene, according to Dr. Levounis.


But here's where it gets interesting: nature walks. Yes, you heard that right. Taking a stroll amidst the wintery wonderland can work wonders for your mood. Dr. Levounis suggests that spending time in nature, especially during your dark morning commute, can help regulate your internal body clock.


And for those looking for extra credit in the battle against the winter blues, opt for a walk among the trees. Studies indicate that walking in the park, surrounded by nature's serene beauty, can have a profound positive impact on your mental health. It's almost as if we've been hardwired to associate nature with tranquility.


So, this winter, as you grapple with the seasonal shifts, remember that it's not all gloom and chill. With a few mindful steps, like regulating your sleep and immersing yourself in nature's embrace, you can chase those winter blues away and embrace the serene beauty of the season. Aren't we lucky that we have so many beautiful parks here in Connecticut.

'S
For Small Peeps

Thanksgiving Baking for Kids


Gobble, gobble, gobble... it's time to feast! Join us on a mouthwatering culinary journey where kids become little chefs. They'll whip up pumpkin-pizzas, create scrumptious 'turkey' cupcakes, and craft 'apple pie' pop tarts in this holiday-themed cooking class with Chef Robyn. Parents, put away those dinner plans because the kids will dine on homemade pumpkin-shaped pizza and indulge in two delightful desserts together. And don't worry, they'll be taking those apple pie pop tarts home for future cravings. It's a delicious adventure you won't want to miss!



Wakeman Town Farm


134 Cross Highway Westport, CT 06880


Friday November 10, 2023


4:15-6:00p


Ages: Grades 1-5


Instructor: Robyn Herman


Students: Max 12


$55 per child


Thanks for reading the entire list.
See you next week-
Sue